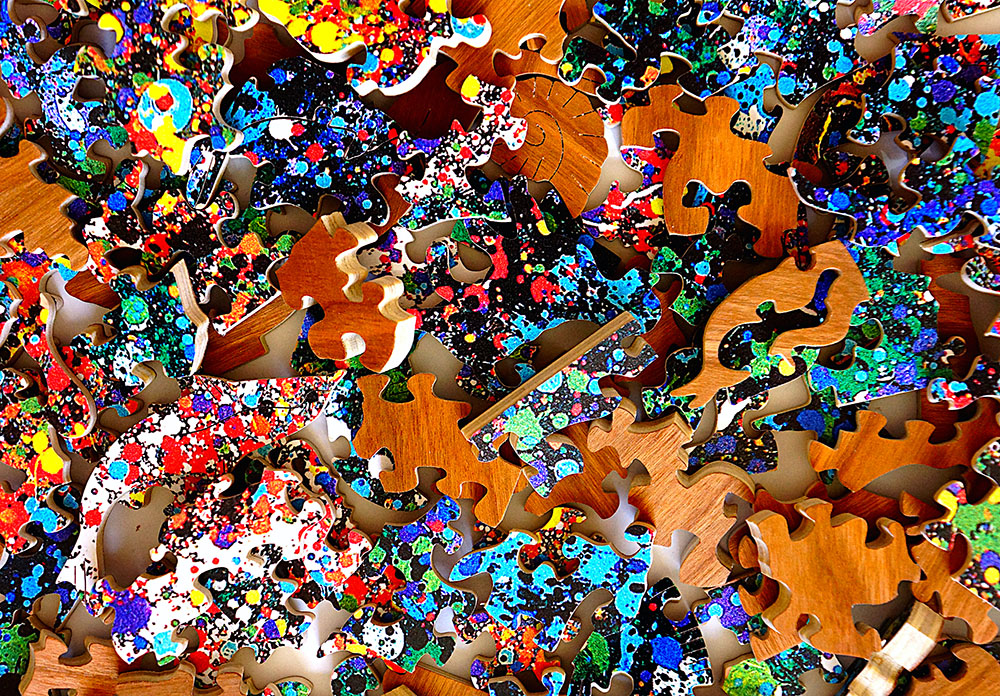 An ongoing exhibition of our work October 2022
Bogarts Wooden Jigsaw Puzzles is thrilled to highlight its most recent jigsaw puzzle creations. These exquisite puzzles will surely inspire the jigsaw puzzle aficionado. Each jigsaw puzzle has been masterfully cut by hand. All of our jigsaw puzzles employ our exclusive "pigmented ink transfer process". The image is printed directly onto our specially prepared plywood surface. This time consuming process has several advantages. You never have to worry about the paper image lifting or delaminating from the actual puzzle piece and because we're not cutting through the paper image itself, there are no visible and distracting white cut lines. Our jigsaw puzzles are unlike all others. All of our puzzles include several cleverly designed whimsies which will surely make you smile, while adding to your puzzling experience. Our heirloom quality hand cut wooden jigsaw puzzles are quite simply, the very finest available.
Peruse our website or contact our studio by phone or email to discuss your project.
508-314-4561 or Bogpuzzle@gmail.com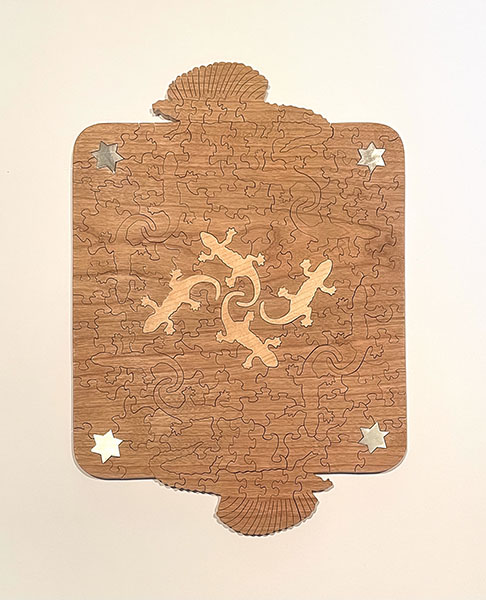 Lizards
9" X 12", approximately 150 pieces
"Lizards" is a departure from our typical colorful wooden jigsaw puzzles. We thought it would be a creative challenge to construct a jigsaw puzzle that utilizes the cherry veneer surface as our palette, while the whimsies become the focus of the design. Several "lizard" whimsies can be found within the body of the puzzle, neatly intertwined with one another The four center lizards have a veneer of tiger maple, a beautifully figured wood which sets them apart from the rest of the puzzle. The four stars have received an actual application of sterling silver plate which have been hallmarked on the back of the puzzle piece. The two larger lizards made from several puzzle pieces proudly adorn the top and bottom of the puzzle. Both the top and bottom surfaces of the puzzle are finished with matching cherry veneers, a stunning wood which adds to the beauty of the puzzle and to the complexity of assembling it. This jigsaw puzzle will surely have you scratching your head when you attempt to assemble it. The cherry surfaces have been oiled and hand rubbed to a lustrous furniture grade finish.
A beautifully conceived wooden jigsaw puzzle that is sure to delight and challenge any jigsaw puzzle aficionado. This puzzle may be ordered by visiting the "image gallery" on this website.